A unique natural scenery, an ancient and illustrious history, a lush and luxuriant landscape are the highlights of a collection of Viero Paints decorative effects inspired by one of the most desired places in the world: Tuscany. We interviewed Elena Rosellini, Export Marketing Manager and Brand Manager for Viero's decorative line dedicated to the foreign market, to know more about the Made in Tuscany Collection.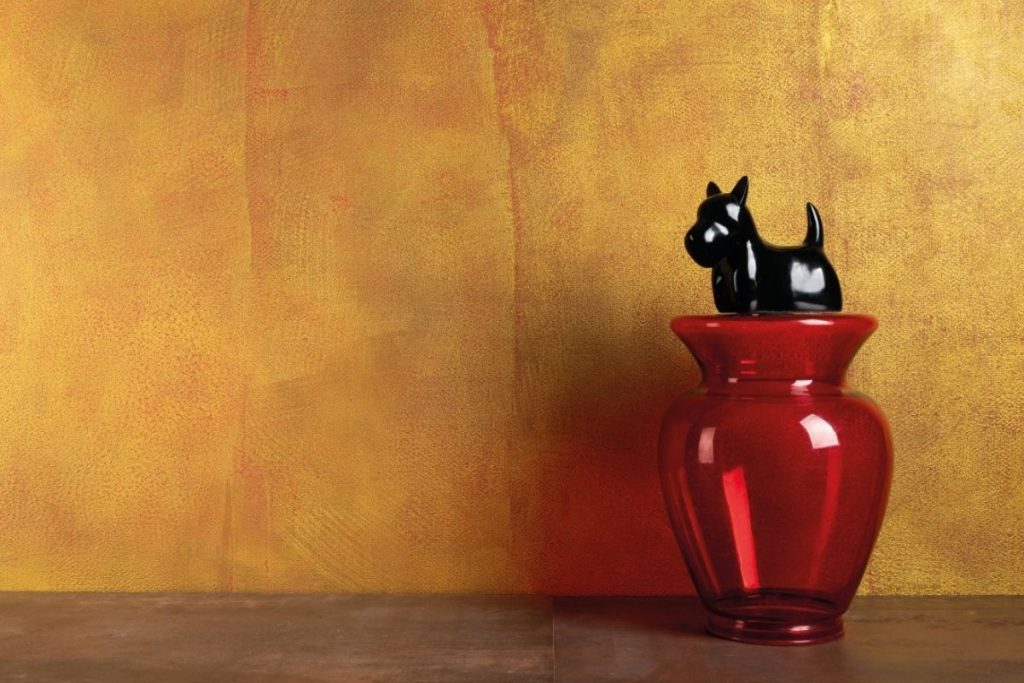 Hi Elena! Tell us more about yourself and Viero Paints values.
"Hello, I've been working at Cromology for almost 10 years now. My previous experience in the export business allowed me to gain in-depth knowledge of its dynamics and become very passionate about it, enabling me to offer all the strategic and operational support to develop foreign sales from a marketing and communications perspective.
The Viero decorating line is specifically designed for foreign markets and positions itself as one of the reference brands for Made in Italy interior design.
Soon after its foundation in the 1960s, Viero realised that the key to success was in exporting the tradition and peculiarities of Italian style to foreign markets. Through decoration, Viero intends to create an authentic experience that evokes the charm of Italian lifestyle and elegance: class, attention to detail, beauty, and love for tradition are just some of the features that allow our products to convey the emotions and sensations linked to the image of Italy in the world.
Thanks to its dynamic and cosmopolitan soul, Viero reinterprets the ancient art of Italian decoration, creating a unique style that moves gracefully between the contemporary world and the charm of old homes. Over the years, Viero has evolved into a source of inspiration for space creatives. For Viero, a wall is like a blank canvas on which to tell a story of our times, with no limits to texture, thickness, colour and consistency, thanks to the extreme versatility of our products which, in line with the mix & play feature, allow users to express their creativity to the fullest. The brand's playful and inventive spirit runs like a fil rouge through every finish, giving life to decorative effects that evoke new and unexpected aesthetic paths and intimate and suggestive mental connections. It is a unique style that wants to excite; it goes beyond the wall to decorate and turns into a lifestyle."
Terre Etrusche is the decorative line dedicated to native minerals and precious metals, which takes inspiration from a people who gave splendour and magnificence to the Roman Empire, and a land of fine raw materials, with an ancient goldsmith and metalworking tradition capable of creating unique masterpieces. But what exactly is the Made in Tuscany Collection?
"It is a praise and a tribute to one of the most loved and appreciated Italian regions in the world: Tuscany, with its unique natural landscape, ancient and illustrious history, and a lush and luxuriant land, where we are lucky enough to have both our administrative and production headquarters.
The idea of creating a collection of decorative effects inspired by some of the most fascinating features of our territory stems from the pride that every day makes us want to tell our story to all those with whom we do business in the world. The response we receive from north to south, from east to west of the globe is unanimous in recognising Tuscany as a priceless and unique heritage of true and absolute beauty in terms of landscape, culture, art and cuisine.
This is how the challenge was born. By stimulating continuous and in-depth research into our roots to recover the sources, and all those raw materials, colours, scents and flavours, and the artisan traditions of the past that have made Tuscany great, and making them available to those who decide to bring one of our decorative effects into their homes. They therefore become witnesses to excellence and quality, bringing the finest haute couture into their own homes.
The first Made in Tuscany collection to be launched was Terre Etrusche, which draws inspiration from a people who succeeded in giving splendour and magnificence to the Roman Empire, with lands that produced valuable raw materials, and a tradition of goldsmith and metalworking craftsmanship capable of creating unique masterpieces. Terre Etrusche is the decorative line dedicated to native minerals and precious metals, from the solidness of iron to the magnificence of gold in an artistic journey that blends history, nature and beauty."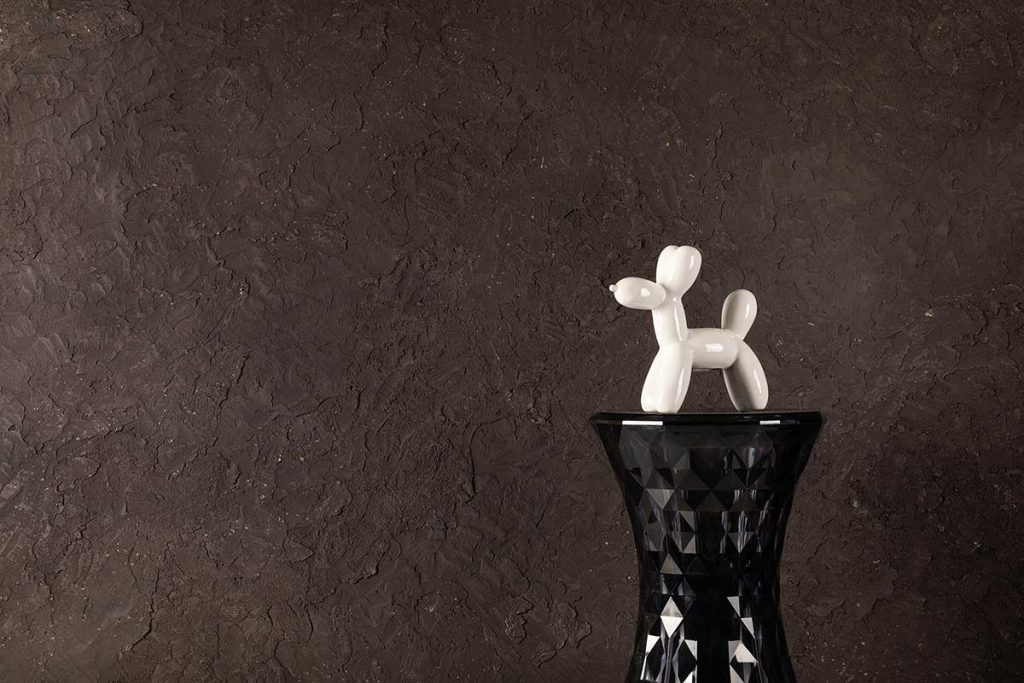 How did this new collection of Viero Paints decorative effects come about?
"It was born first and foremost from the love and deep respect for our roots and traditions, a constant thread in the interaction with all our interlocutors, who love to listen, interpret, re-interpret and visit us to experience first-hand everything we tell them through our finishes. Motivated by the need to tell our story while trying to differentiate ourselves thanks to a magnificent and unique context, and with our generosity in wanting to make our partners part of this journey, the various departments responded by getting quickly and enthusiastically involved in order to outline, each for their own skills and field of activity, the character and strength of what would soon take shape as a high fashion product for refined interiors.
Research and development, marketing, and sales are all committed and focused on studying the style and creating a unique and captivating proposal.
In particular, a great contribution was made by the team of decoration professionals, especially Fabrizio Da Prato, who, thanks to his artistic sensitivity, in-depth knowledge of the products and great skill in knowing how to use and make the most of the characteristics of each of the Viero finishes, was able to understand the intentions we wanted to achieve through the new decorative effects, satisfying our constant search for fine taste and innovative aesthetics, interpreting styles and materials to create true works of art that reflect the know-how of the past."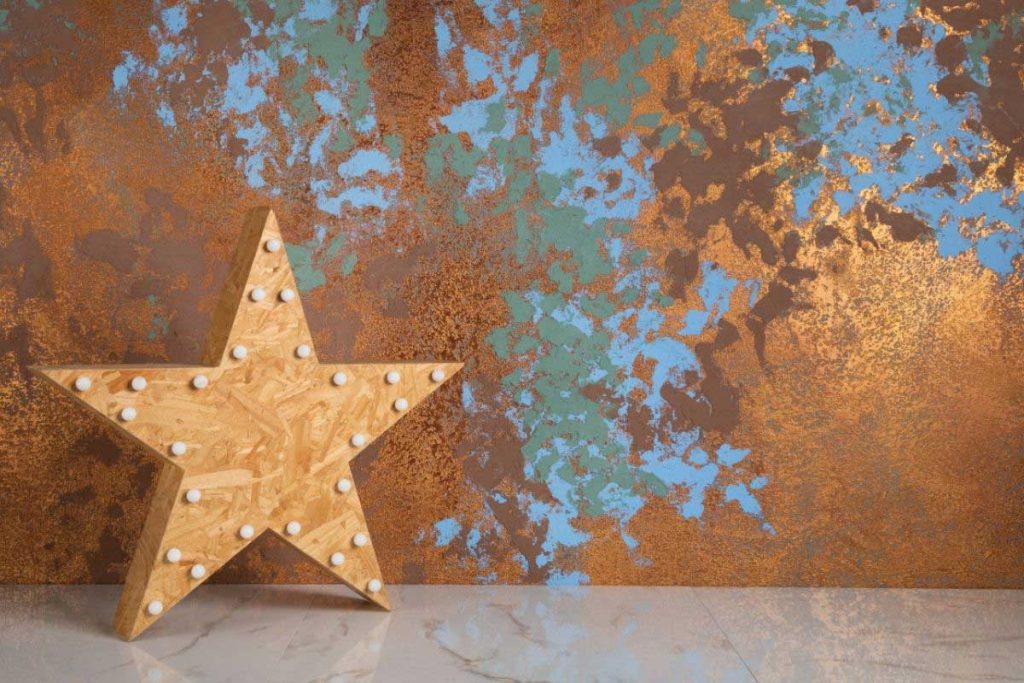 The materiality of iron and the finesse of gold in an artistic journey that blends history, nature and beauty. What does Viero want to convey through the Made in Tuscany Collection?
"The charm, emotion and elegance of Made in Italy interior decoration. It is a unique approach to interior design, maintaining the values that characterise Italian craftsmanship, in which attention to detail and the careful choice of raw materials are the ones that have rendered the "Made in Italy" mark synonymous with excellence and quality throughout the world. Through the encounter of matter and craftsmanship, in a land cherished and loved worldwide, capable of producing genius, civilisation and beauty, it is possible to be free to dream and create without limits or boundaries. Man has always transformed nature's materials into elements of life through water, fire and strength.
With the Made in Tuscany Collection, nature's primordial essence and man's creative hand come together to generate visual and tangible beauty, suspended between history, uniqueness and design. It is for the more demanding interior experts who are increasingly looking for unique and engaging solutions."
"Over the year, Viero has increasingly become a source of inspiration for space creatives. Each of Viero's collections is generated from Italian artistic and craft tradition. We meticulously study the raw materials that inspire us, such as marble dust from Carrara quarries, the noble metals used by the Etruscans or the malleability of Sienese Clays.
Thanks to this special care, every decoration in the Viero Collections can bring a piece of Italy into the world, and the spirit and identity of Tuscany live in each one of them.
Attention to detail, the uniqueness of each piece, and craftsmanship expertise are at the heart of Viero's products, which are expressions of the unavoidable blending of design, architecture and art for a result that is inspired, harmonious and functional.
Any high-quality product needs someone who knows how to enhance it, treat it with care, understand its value, and highlight the material with their craft. Every Viero decoration can be reinterpreted by users who, through their creativity and skill, can make every decoration a unique work of art, in line with the Italian know-how that is renowned and appreciated everywhere in the world."
Special thanks to Elena Rosellini for her kindness and availability.
Antonella Mangiaracina