Viero Paints decorative wall effects evoke the refined atmospheres of Italian lifestyle and elegance, through attention to detail, beauty and love for tradition. Viero helps create unique interiors and sophisticated kitchens, combining contemporary style and timeless charm.
Kitchen walls are the canvas on which you can tell new and always different stories
Walls are important and complementary features in interior design. For your home decor to be successful, the choice of the details and right wall effect is crucial. Viero Paints has always been synonym with style. The walls of the kitchen, one of the most used and convivial places of the home, are for Viero a blank canvas on which to tell, through colour and texture, a story that is always new and different.
Viero Paints decorative effects for a stylish kitchen: the neutrals
Viero Paints wall effects in neutral tones are perfect for the walls of both contemporary and traditional kitchens. Neutral colours work well with just about anything and adapt to different settings. A neutral palette is also perfect for those who love more elegant spaces for their homes. The softer shades of Viero decorative effects will give kitchen walls unique materiality.
The wall effects achieved with Marmorino made with Marmorin, Marmorino made with Marmorin Hydro, Marmorino made with Marmorin Sand or Marmorin Extra will give the kitchen a unique decor thanks to soft nuances and fine marble appeal. Kitchen walls will look smooth, elegant and refined, for interiors of exquisite taste.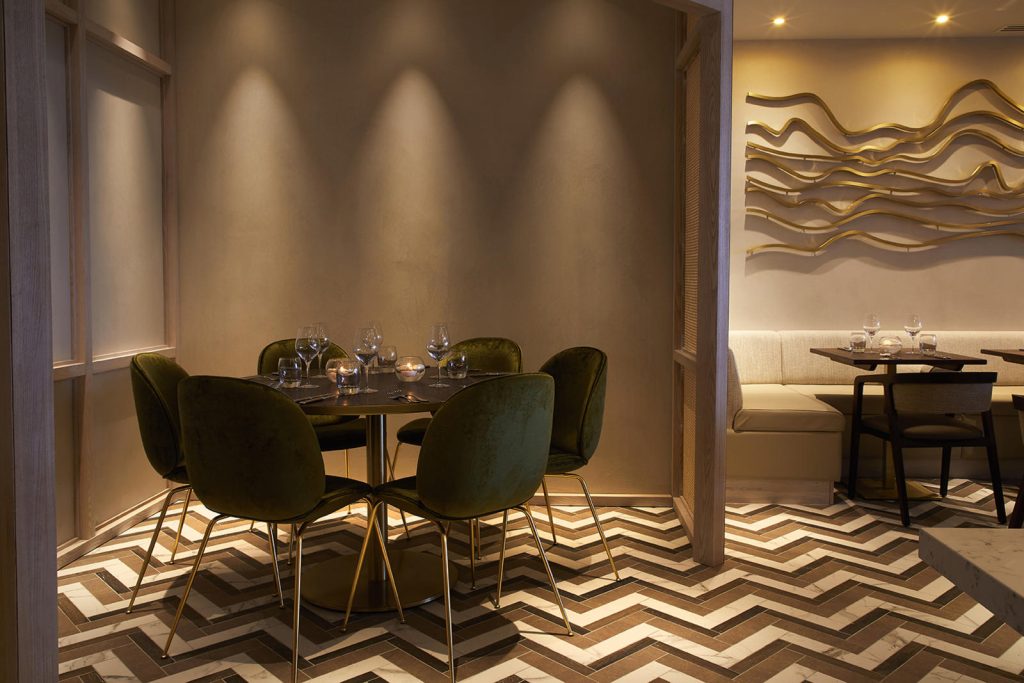 Viero Paints decorative effects for a stylish kitchen: bright colours
The kitchen is a very used and convivial place in the home. Therefore, it can be a good idea to positively affect your mood as well as your appetite! Kitchens with a more contemporary design are easier to experiment with. Since the style is simple and straightforward, you can have fun adding character to the walls. You can use more daring effects such as Stucco Veneziano made with Mithos Lux to create a spatula-effect that will result in a glossy marble finish with a three-dimensional appearance and elegant aesthetic value.
Or the Damascato effect made with Allure, ideal for giving brightness to exclusive and refined kitchen areas. The Wood effect made with Vieroplast and Bitume Decorativo, instead, will add a feeling of warmth and natural charm.
And why not experiment with more trendy shades like the Chiaroscuri effect created with Erametal? This is a particularly exquisite and attractive effect, characterised by a fine metallic look. An ideal effect for more modern and cosmopolitan kitchens.
Viero Paints decorative effects for a bolder kitchen
Playing with different shades of red for your kitchen walls is a daring yet tasteful choice. The Stucco Veneziano effect made with Lithos is the right mix of boldness and sophistication. This marbled wall effect, belonging to the family of traditional Venetian stuccoes, is made with an acrylic solution that allows achieving very compact, smooth and reflective surfaces. This is an effect that allows you to draw attention to a specific point in the room, creating a bold and extremely elegant design.
For kitchens with character, the Velathri effect by Viero Paints is what you need. This is a wall effect from the new Made in Tuscany Collection that features blue oxidation on bare rock, exposing all the splendour of copper. Velathri is a finish that brings the naturalness of native minerals into a kitchen, thanks to the use of the materiality of E-BREZZA and the metallic accents of ERAMETAL to create a powerful effect capable of being surprisingly pleasant to the touch with its depths.