Seven on-trend finishes created with decorative paints and materials
The varying hues of the sea, the roughness of rock, the green of plants and the comforting warmth of clay soil…
Nature is a never-ending source of inspiration for interior wall decorators.
Indoor finishes that mirror the natural world through textures and colours are always a popular choice with architects and interior designers who want to create living spaces that can adapt to different furnishing styles: from rustic to contemporary, from minimal to boho chic, etc.
Here is a selection of nature-inspired decorative effects conjured up by our creative wall artists by combining and blending Viero Decoratives products with different colours, techniques and textures.
Warm atmospheres on walls. Decorative wood-effect paints
Wall decorations inspired by a natural material such as wood are ideal for creating versatile indoor settings to conjure up warm, informal and cosy atmospheres.
This is, in fact, the key inspiration behind walls created with Wood, a decorative wall effect inspired by the typical shades and patterns of wenge, iroko and teak. The effect is created by using VIEROPLAST plaster applied in vertical strokes combined with BITUME DECORATIVO, added to Vieroplast to achieve a weathered look through a delicate dark brown spotted effect.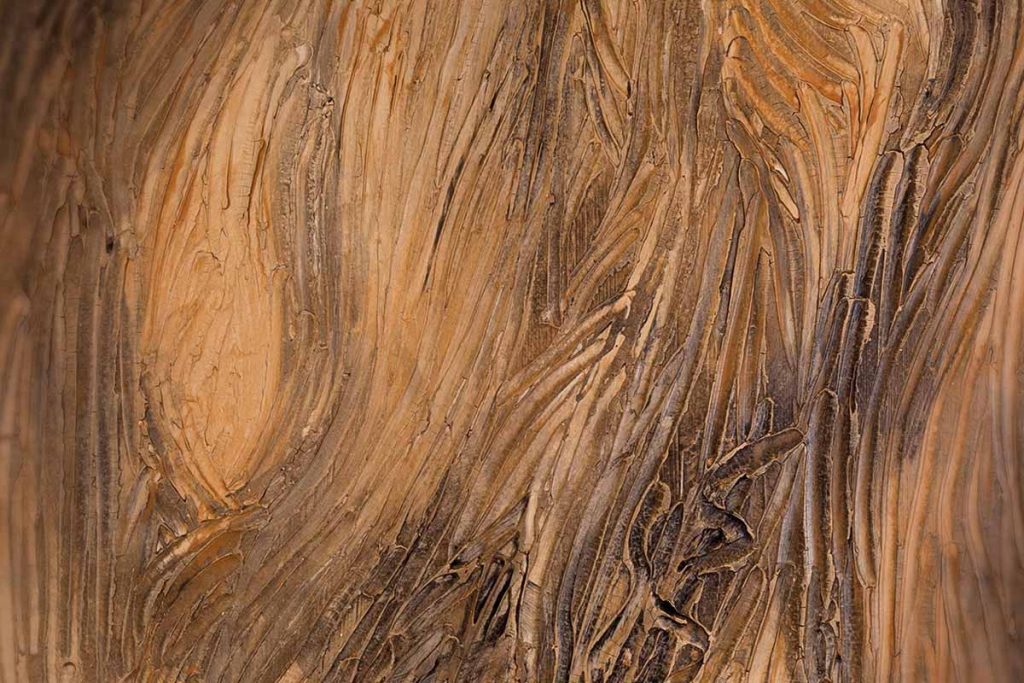 The decorative Corteccia effect, on the other hand, is inspired by the bark of grape vines, a finish included in the Bolgheri – Made in Tuscany collection, recently launched by the Viero Decoratives team. Featuring a wealth of textural and tactile effects that reinterpret the twisted pattern of the bark on grape vines, this decoration is created by combining the coloured Viero Vel glaze with Krakkle mortar to conjure up a sophisticated cracked effect.
Poetic roughness. Rock-effect walls
Rough and powerful with an archaic feel. Rock-effect walls have a special appeal, blending a strong poetic and aesthetic tension with the elegant roughness conjured up by the rock that inspires it.
For application on indoor surfaces, Stone is an acrylic resin-based plaster designed by Polidori Barbera for Viero Decoratives, using VIEROPLAST. Its soft, evenly grained texture comes in warm, earthy tones that are inspired by nature with an added creative, alluring and elegant twist. Ideal for contemplative, timeless settings.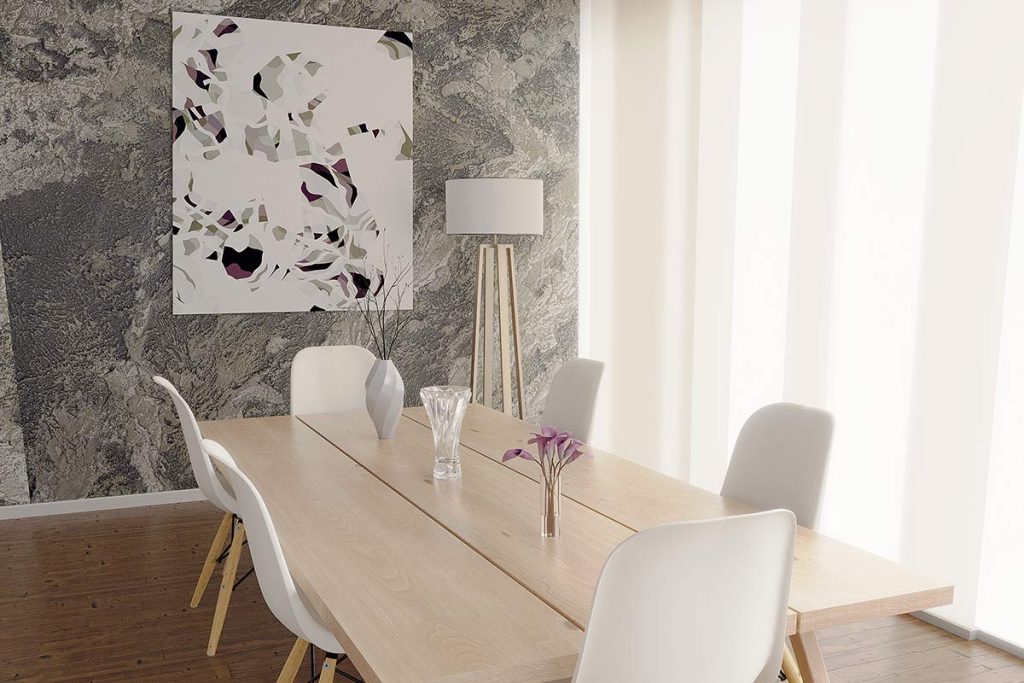 The Lichene effect, from the Petra Apuana line, included in the Made in Tuscany collection, on the other hand, plays on the vegetation and organisms seen growing on white Carrara marble in their natural state. This is a sophisticated textured finish created by the combination of Marmorin Extra and Marmorin, featuring a subtle interplay of layers, movement and contrasts. The result is a striking visual impact intended to conjure up the irregular shapes of the hardy plants that grow on the steep slopes of the Apuan mountains.
Vertical ocean. Decorative ocean-inspired wall paint
If you want to conjure up an interior effect inspired by the sea, then Chiaroscuri creates a highly dramatic look in a variety of aqua green shades. The ideal solution for conjuring up modern, cosmopolitan atmospheres. This decorative finish showcases subtle chiaroscuro transitions on the wall, reminiscent of the hues of the sea and oceans when viewed from above. This effect is achieved with the water-based enamel Erametal applied to create a smooth surface featuring a subtle metallic effect created by mixing selected pigments.
Textured paint to pay tribute to the all-important soil
The countryside is evoked by the effect of the new Bolgheri – Made in Tuscany line, inspired by the elements that make the Tuscan landscape so beautiful.
Podere is a decorative effect that interprets the sun-baked, clay soil of the fields around Bolgheri, located between the land and the sea.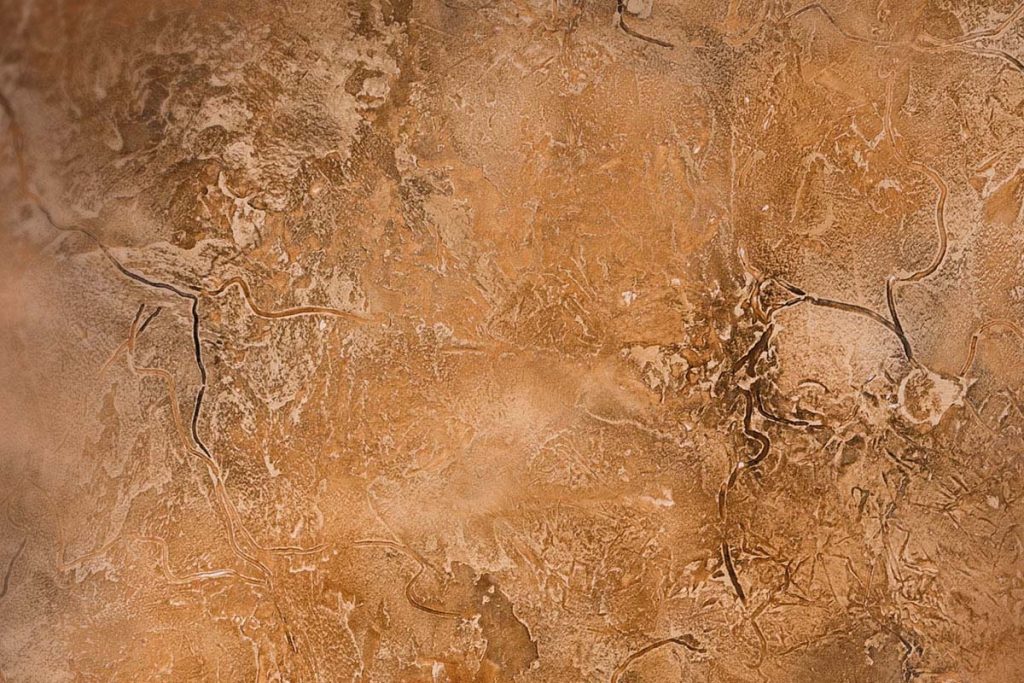 The importance of the geographic location of this part of the Livornese Maremma, a major winemaking area in Tuscany, is celebrated through the creation of deliberately irregular walls, shades of ochre, conjuring up images of a walk through the vineyards on a hot summer's day, with the song of cicadas in the background set against rolling hills. Bygone atmospheres combined with a highly contemporary mood, ideal for creating sophisticated spaces even in avant-garde interiors. A high-impact yet easily achievable effect is created by combining E-Brezza with Viero Vel coloured glaze.
Mix and play. Combine colours and materials and create your own wall design
If you want to transform rooms by drawing inspiration from nature, there are an infinite number of solutions while the possibilities for customising exclusive, original and site-specific creative wall spaces by using and mixing products, colours and techniques are particularly challenging.
An example of how decorative wall products can be used creatively is Foliage D'Autore, an elegant finish conceived as a fine piece of artistic craftsmanship, created freehand with a brush and spatula on a wall that becomes a painter's canvas. It is a bespoke foliage that focuses on the floral details of the vines, created using E-Brezza fibre-reinforced acrylic mortar, Viero Vel coloured glaze and Silk for an alluring and silky finish.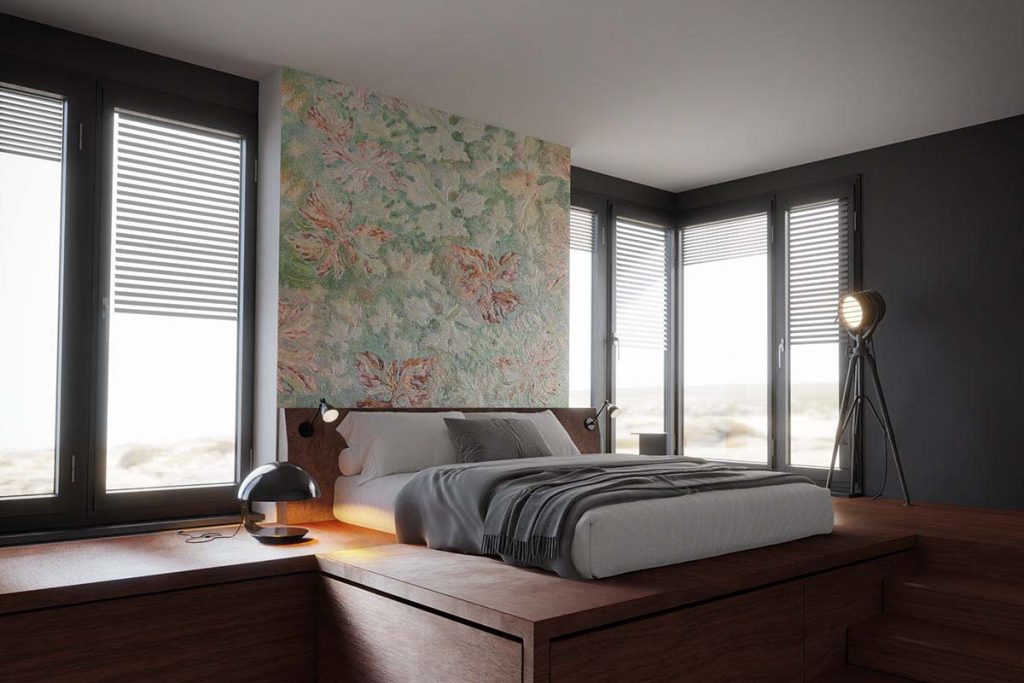 But Foliage D'Autore – as already mentioned – is just an inspiration. Let yourself be inspired by the textures of plants and animals, the colours and shapes of ecosystems or the patterns of minerals to create unique decorations, thanks to the versatility and ease of use of the products and the infinite variety of colours available.
Do you need assistance? We are here to help!
Have you got a decorating project involving or do you need some technical assistance to make it happen? Are you interested in finding out about Viero Decoratives products? Would you like specific inspiration on how to combine the various products? Would you like to take part in a day at the Viero Academy to find out about the product in detail and test it first-hand to gain greater confidence with a specific installation technique? Contact us, we are always here to boost the creativity of our partners!