Charm, emotion and elegance in the most natural styles of wall decoration. A dynamic and cosmopolitan spirit in harmony with the traditional know-how of the Italian and British natural style that ensures a smooth and textured finish at all times.
Iacopo Petralli and Elena Rosellini to interview Lee Fennel, U.K distributor and CEO of Ardour Venetian Limited, during a training session at the Viero Academy.
Ardour Venetian Limited (www.ardourvenetian.co.uk) is a decorative Venetian plaster design company with 24 years of experience in the craft industry creating beautiful plaster artwork designs in the U.K.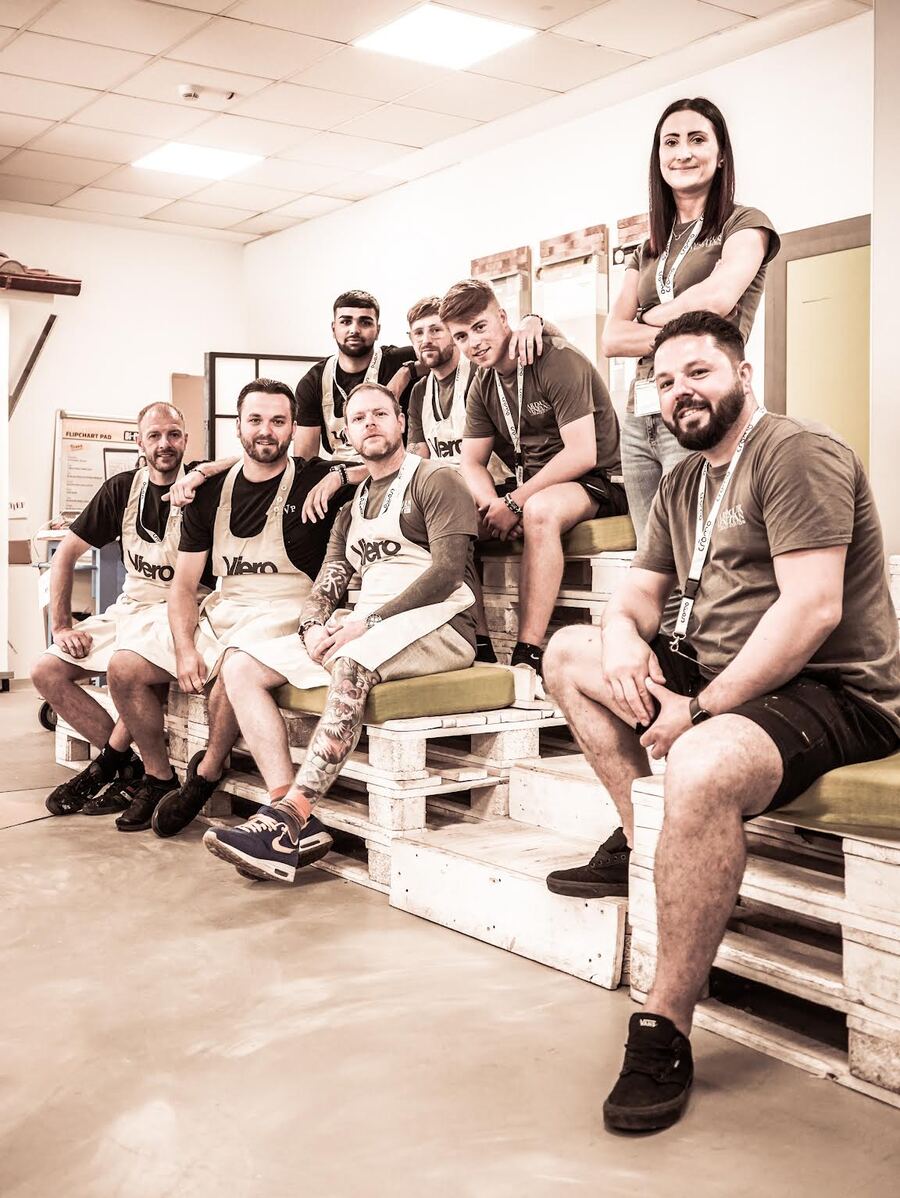 They are also renowned for producing some of the most recognisable finishes in the Venetian plastering industry, operating in beautiful residential properties, hospitality venues such as hotels, bars, casinos and restaurants and on some of London's most iconic buildings such as St Mary Axe (The Gherkin) where they installed a highly polished black marble-like finish with geometric copper stripes.
At Ardour they use only the best materials imported from Italy, such as the Viero products from the Viero decorative range , because "as stated on their website" they are assured of a product that will not only look amazing but will also be very durable to give your home, bar or restaurant a unique artistic plaster finish over any surface.
Now to the Tuscan experience of Ardour's owner, Lee Fennel together with a group of customers and collaborators, stayed to deepen laying techniques through a training course at the Viero Academy. It was a full immersion in the heart of the region, with a 4WD jeep visit to the Carrara marble quarries and dinner based on typical local products. Demonstrating our company's desire to provide partners with an all-round immersive experience in Tuscan tradition and culture.
An experience that allowed them to deepen their knowledge of Viero Decoratives products, which Lee and his collaborators have already been using for some time in the company.
As Lee explains in the video interview, the impression gained is that Viero Decoratives' decorative formulations are of a truly fantastic quality, particularly due to that finishes that imitate metal and concrete.
According to Lee, it is important that this aesthetic aspect can also be perceived by the customer, so his experience is certainly very positive. In addition, being able to get to know the products in a full immersion meeting with the Viero Decoratives experts was, he explains, crucial.
Another thing that has been strongly emphasised here is how important it is to be able to offer a wide variety of effects and finishes. We are not just talking about colours but also textures, which for Lee is the key factor in the success of any project. Such as stucco cement finishes or effects that replicate 'natural stone'.
To the question of what the most popular trends are at the moment in the UK in the decoration field , Lee has no doubts. The most popular product is the finish that replicate the materiality of concrete.
But how important is it to delve into the technical aspects of these products? Lee explains that when it comes to such sophisticated products, having a good commercial background is not enough. The key point is in-depth technical knowledge to enable optimal use. This point is certainly highly appreciated by the customer.
Viero Decoratives' made in Italy is another key factor for Lee, a fundamental point of the success and quality of these products. A real added value.
As to whether there is a range of colours in the U.K that are particularly trendy, the answer is the range of neutral shades, particularly greys, creams and beiges. But also hues in the range of greens and dark blues, which are very popular in the country.
Among the projects realised with Viero Decoratives, Lee concludes which were especially satisfying. This happened when using travertine finishes and Marmorin decorative effect in a combination. Products, by the way, that are environmentally friendly in a formulation.