Old English decor never fails to enchant. To decorate your interiors in the style of 19th century homes, it is important you choose the furnishing wisely, starting with the walls! Here are the Viero Paints finishes that are best suited for reproducing elegant nineteenth century interiors!
Old English interior design ideas
MARMORINO made with Marmorin creates plays of transparencies with a fine chiaroscuro effect. A true decoration classic, inspired by the preciousness of marble and made with MARMORIN lime plaster, achieved from tiny mineral particles, based on pure lime putty and marble dust. A perfect idea to decorate the walls of a 19th century style home.
MARMORINO made with Marmorin Sand gives wall surfaces an appearance of understated elegance through the presence of fine coloured sand combined with mineral products based on pure lime putty and marble dust. The effect is of smooth and translucent walls, creating harmony between classic forms and innovative materials.
DAMSCATO made with Ghibli is a decorative effect inspired by precious nineteenth century Damask fabrics where the design is highlighted by the gloss contrast between the background and the surface, between rough and smooth areas.
STUCCO VENEZIANO made with Lithos is a marbled effect, typical of classic Venetian plasters.
Gold walls for nineteenth century designs
DAMASCATO made with Allure draws inspiration from Damask fabrics. The application with ALLURE paint is enriched by the reflections of precious gold or silver pigments, which create fascinating plays of light. Ideal for illuminating the scene in classic and sophisticated settings.
CLEVSIN made with Vieroplast, Erametal and Allure inspires precious textures made with VIEROPLAST, ERAMETAL and ALLURE. An effect that gives walls three-dimensional depth and warmth.
STUCCO VENEZIANO made with Mithos Lux creates a glossy marble effect with a naturally three-dimensional appearance and elegant aesthetics.
ZAMATHI made with Vieroplast and Erametal adorns walls with the magnificence of gold, and the grace of a fine finish given by ERAMETAL through different nuances and plays of light.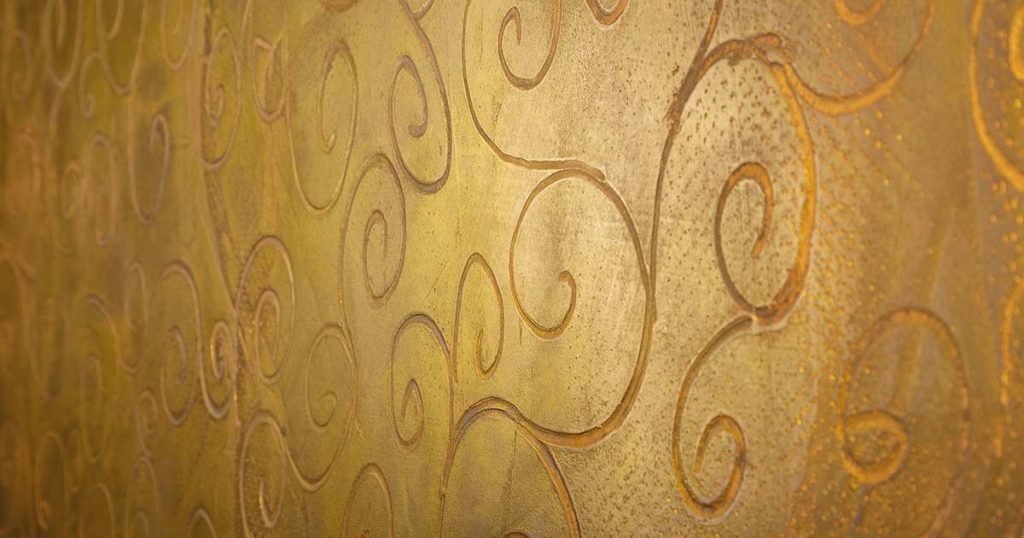 Old English interior design
The classic Old English style is chosen by homeowners for its sophistication, quality of workmanship and timeless elegance. It recalls the atmospheres of a period that ranges from Art Nouveau to Regency, Gothic, Neoclassical and Victorian era. One of the main features of the nineteenth-century style includes the presence of wood and marble, lace curtains, damask and embroidered fabrics, rugs and tapestries, subtle and delicate colours and, above all, elaborate wall finishes. From sofas to coffee tables, from colours to fabrics: the Old English style never fails to charm.
In order to decorate interiors in the nineteenth century style, it is essential you create a balance between elements of harmony and contrast, for both the walls and the fabrics and furnishings. Cosy, timeless, warm and embracing, this style never goes out of fashion.
Best colours for the classic style
Subtle hues are the most suitable and elegant colours for old style interiors. However, blue-greens or burgundy reds can also be used in old-fashion interiors. Delicate and subtle hues of the pastel colours combined with gold and coppery shades are perfect for a classic style. Beige and cream are however the predominant colours in a 19th century style home.