Viero Paints Made in Italy decorative finishes aim to reproduce the charm of Italian elegance through attention to detail and aesthetics. With its refined and trendy soul, Viero creates a unique style in your home, helping you design a tasteful home office, combining elegance and harmony, for a room that can drive your concentration and productivity.
Home office, a room for concentration and productivity
An interior design project starts with the choice of the best colour and therefore the right paint to colour your walls. The selection of the most appropriate decorative wall finish in a room is fundamental to create unique atmospheres consistent with the style of the rest of the home. Your home office is the room where you must concentrate and find balance. Viero Paints, which has always been synonymous with style and elegance, through colour and material, will help you design rooms that are not only aesthetically pleasing but also stimulating in terms of productivity and focus.
The best wall colours for a home office
The best colours for painting the room intended for study and work are the neutral shades that relax the mind and body, and the lighter shades of yellow in combination with blue-green hues. Yellow increases self-confidence, stimulates mental activity, reduces sleepiness and boosts optimism and vitality. Blue and green, on the other hand, are the colours associated with meditation, generating a soothing effect, a sense of peace and tranquillity. An office paint colour to avoid is red because it might be too exciting.
Viero Paints decorative wall finishes for a trendy home office
Viero Paints neutral decorative finishes are perfect for home office walls with modern and traditional furnishing. With the softer Viero decorative effects, you can create a home office with a unique style.
Decorative effects like Marmorino made with Marmorin, Marmorino made with Marmorin Hydro, Marmorino made with Marmorin Sand or Marmorin Extra, make the room intended for study or work a unique and balanced environment thanks to the feeling of calmness conveyed by the colours.
To add some character to your home office, you can use Chiaroscuri made with Erametal. This creates bright interiors with character and a fine metallic appearance. An ideal effect for modern-looking work or study spaces.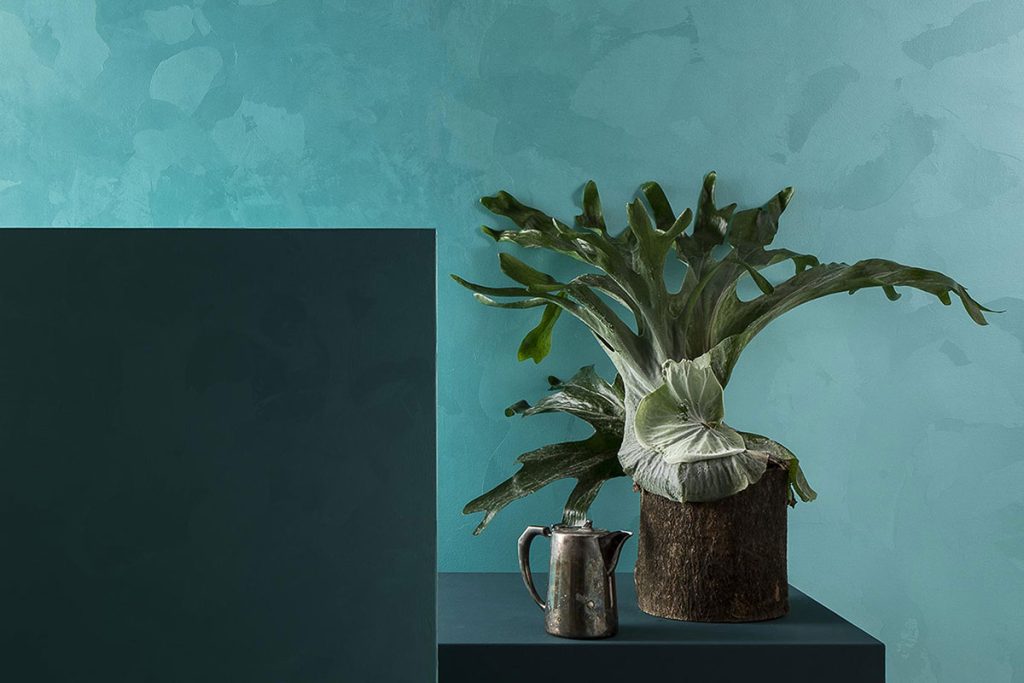 For an industrial-style home office, the decorative effects of the Concrete series by Viero Paints are perfect. CONCRETE B made with Ghibli and Viero Vel is a wall finish with a cosmopolitan and contemporary mood, conceived to evoke the appearance of fine concrete. CONCRETE S achieved with VXF and Vixalit 500 is ideal for spaces characterised by an urban and industrial design. This textured wall finish is inspired by the appearance of raw concrete, creating dynamic and original wall surfaces.
Wood is a decorative finish made with Vieroplast and Bitume Decorativo that reproduces the nuances of soft yellow hues. This Made in Italy finish by Viero Paints offers an enveloping and natural charm to your home office.