Walls with chiaroscuro effect are an option to keep in mind! Modulations of tones, vibrant overlapping of colour levels, refined plays of transparencies that highlight the spatula strokes… The ideal for those looking for a sober solution but always full of personality. In fact, they give the spaces a sophisticated accent of dynamism and movement that gives a delicate, slow appearance, revealing new decorative details every day, and engaging in a close dialogue with the light that illuminates the rooms.
To help you find the right inspiration, here are three different wall decoration proposals made with Viero Decoratives products. All to be replicated or customised in infinite variations depending on needs, tastes and creativity.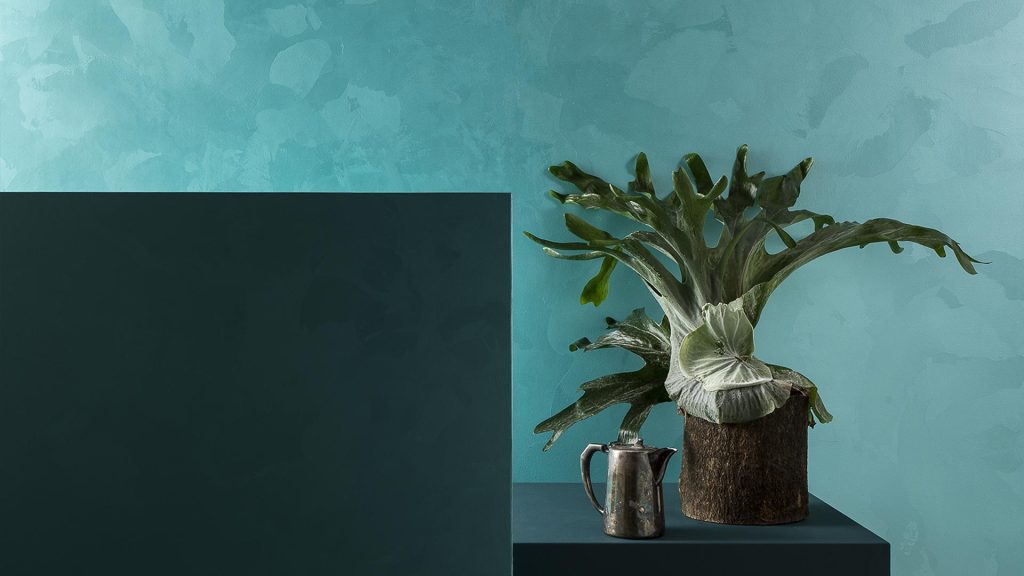 Walls with Chiaroscuro effect using Erametal
Metallic, shiny, smooth. Chiaroscuro is an effect for particularly scenic interiors, characterised by light and dark chromatic modulations that are well matched with modern and cosmopolitan environments, integrating with all living spaces: from the living area to the bedroom, to commercial spaces. This decoration is realised using the Erametal product, a water-based finish embellished with a mixture of selected metal pigments to create luminous and iridescent effects on the wall. The colour chart evokes the world of metals, touching shades of gold, silver, bronze, copper… But there are also colours inspired by graphite, anthracite and oxidation.
Marmorino with Marmorin. Transparent walls, to contemplate
Another idea for those who focus on timeless elegance and want to decorate the vertical space with wavy and sophisticated effects is Marmorino, suitable for indoor and outdoor environments. Realised with the Marmorin product it is the ideal solution to create chromatically vibrant walls, with shading and unique and unrepeatable tonal depths . Moreover, being a product based on lime putty and marble powder, the walls are breathable and particularly healthy. The final yield is suitable for all environments and goes well with any living style; in particular the high rate of naturalness and customisation make Marmorino an effect rich in tradition but at the same time particularly in line with contemporary taste. Do you want to see how to realise this effect? Watch the video tutorial eand follow the steps of our expert applicators! are four decorative effects inspired by marble.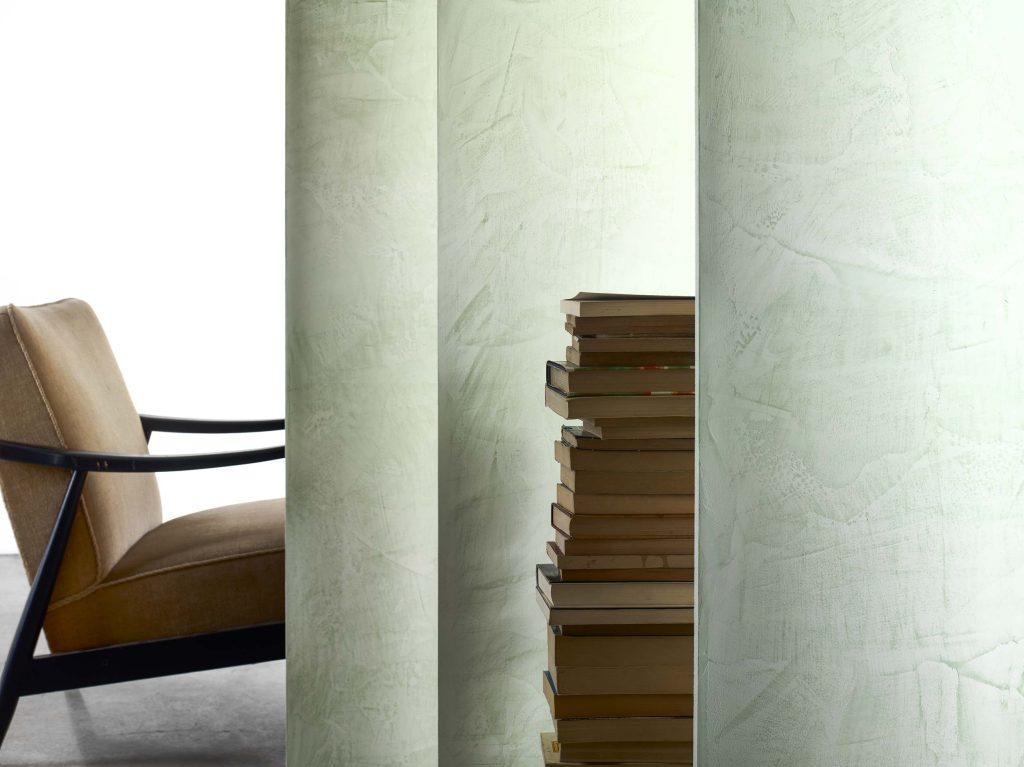 Enveloping chromatic dialogues with the Velatura effect for walls
If we are talking about walls with the chiaroscuro effect, it is impossible not to mention those made with the "Velatura" decoration. It is a wall finish with a delicate design, in which the great protagonists are the play of transparency and sedimentation of different tonal levels, rendered by the applicator through the tight dialogue between the background colour of the wall and the thin surface layer. It is a classic decoration, suitable for elegant and refined environments, available both on smooth surfaces and on material areas, using different tools. For example, the photo application was created by applying water-resistant universal matte enamel Viero Vel on a Multiquartz base, a quartz-based paint, filler, masking and very opaque that can be used both as a primer for decorative effects (ensuring adhesion on difficult substrates) and as a finishing product. Do you want to discover the different application solutions of Viero Vel? Watch the video tutorial and be inspired by the advice of our expert applicators!
Walls with chiaroscuro effect? Design your unique creations!
But for those who want to transform environments through walls with chiaroscuro effect, the solutions can be truly endless; the possibility of giving free rein to creativity and make creative space of a wall original and site specific using and mixing products, colours, tools and techniques are particularly challenging. Thanks to the versatility, comfort of use and wide range of Viero Decoratives products, wall designers from all over the world have the opportunity to create personal and unique projects. Would you like to find out more? Design your walls with chiaroscuro effect! Contact us foer any doubts, advice or information!