The Viero Academy is a training experience for applicators, regularly organised by Viero Decoratives and tailored to its global partners.
It was first developed in 2016 as a coaching and support tool for wall-covering professionals who use Viero Decoratives products. It is held on Campus, at the Cromology headquarters in Porcari, in the heart of Tuscany, just a few kilometres from Lucca and Florence, and is open to either individual professionals or groups (maximum 10 people).
It is an immersive, typically two-day experience that can be entirely personalised, alternating between theory and practice in the classroom and more hands-on experiences directly in the Tuscan territory, allowing participants to soak up the region's famed beauty and feel the perfection of "Made in Italy" first-hand.
Discover the secrets of decorative wall products and application techniques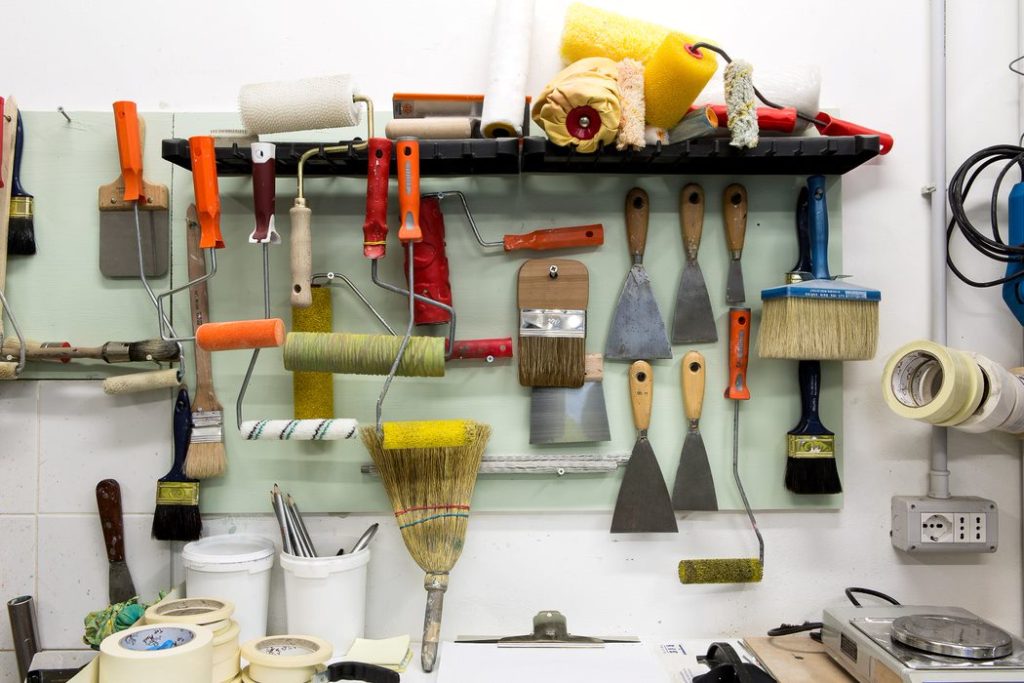 Every year, the Viero Academy hosts hundreds of professionals including applicators, decorators, distributors, salespeople, business owners, technicians, interior designers and architects from more than 50 countries worldwide. All united by the desire to discover the art of creating unique decorative effects in "real life" through the excellence of Viero Decoratives products.
The Viero Academy is a valuable opportunity for those passionate about wall coverings, who, after entering the classroom, donning their aprons and grabbing their tools, can spend an entire day with skilled Master Decorators at their exclusive service in Italian and English, to:
Demonstrate the various application cycles, step by step, then have participants replicate them.
Perfect techniques, giving application-specific instructions.
Support the implementation of projects.
Respond to doubts and questions.
Showcase the creative potential of the products with a selection of decorative effects.
Suggest tools and the possibilities for "mix and play".
Unveil precious tricks of the trade.
Personalised courses for wall professionals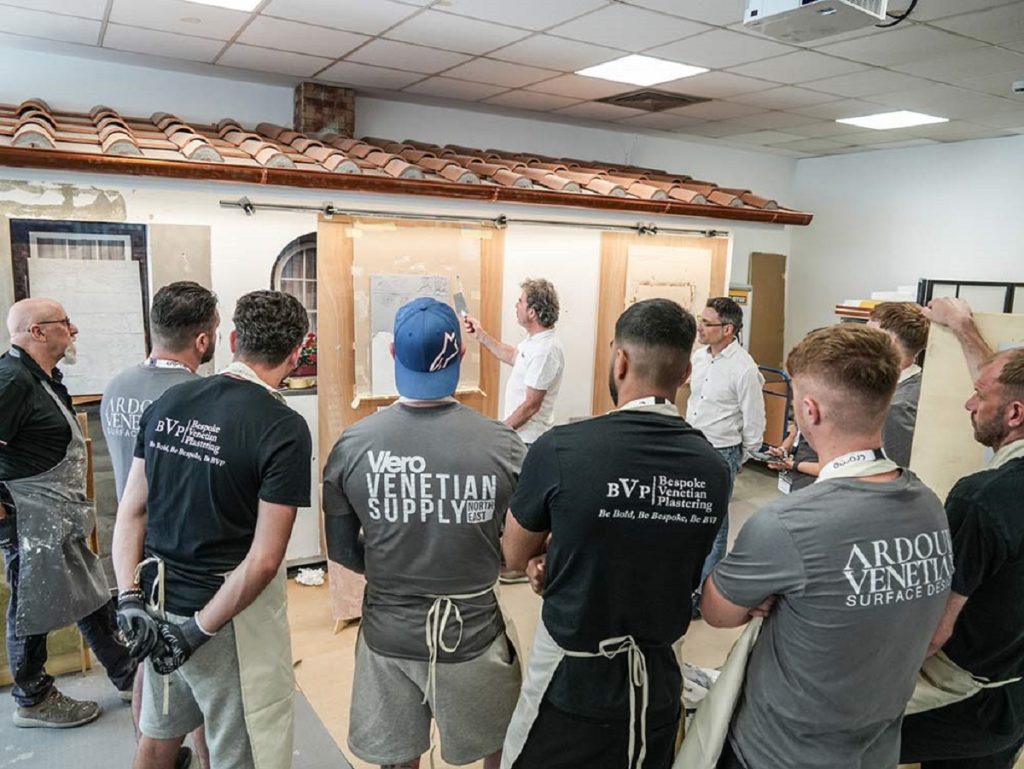 The possibility to participate in genuine master classes offered exclusively to Viero Decoratives partners. Despite being very flexible and designed "ad hoc" for all types of needs, the training experience for applicators, wall covering installers and professionals are classified into two macro categories which are then articulated with various nuances and customisations. Specifically, the training can be:
Basic: for those looking for a general introduction. In this case, the course aims to explain all the basic application techniques of the product range, providing essential information on timing, tools, application cycles and valuable tips.
Advanced: for those who are familiar with the products but want to know more; they want to refine their style and create a unique and personal visual sensation. In this case, the Master Decorators provide targeted guidance on the value of creative interpretation of finishes and how to develop the design patterns of certain effects in the catalogue, for example, Moon Craters, Concrete, Corduroy, Ghibli, Craquelè, Marmorini... Ample space will also be given to the concept of "mix and play", that is, the possibility to improvise new exclusive effects by freely combining different products and techniques.
In addition to the certificate of attendance issued at the end of the course, participants will also receive a kit complete with marketing tools and materials, as well as panels with decorative effects created by themselves during the training course and which are extremely useful as promotional tools in the future.
Breathe in "Made in Italy". Enjoy unique experiences out on the field
And what happens after the technical and practical lessons with the Master Decorators?
From the Leaning Tower of Pisa to the Tuscan hills surrounding picturesque Bolgheri, from the Carrara quarries to the Etruscan Coast, to the open-air museum that is Florence… Once in the heart of Tuscany, it's difficult to resist its culture and natural beauty. Many who visit the Viero Academy choose to stay longer and enjoy this experience to the full, returning home full of ideas and beauty, having experienced first-hand and truly breathed in the unique atmospheres, landscapes, colours, traditions and knowledge inspiring the Viero Decoratives products exported all throughout the world. This is why we have established a network of partnerships with carefully selected tour operators that can suggest the best ways to discover the area.
And once you get back home? The training experience for applicators continues!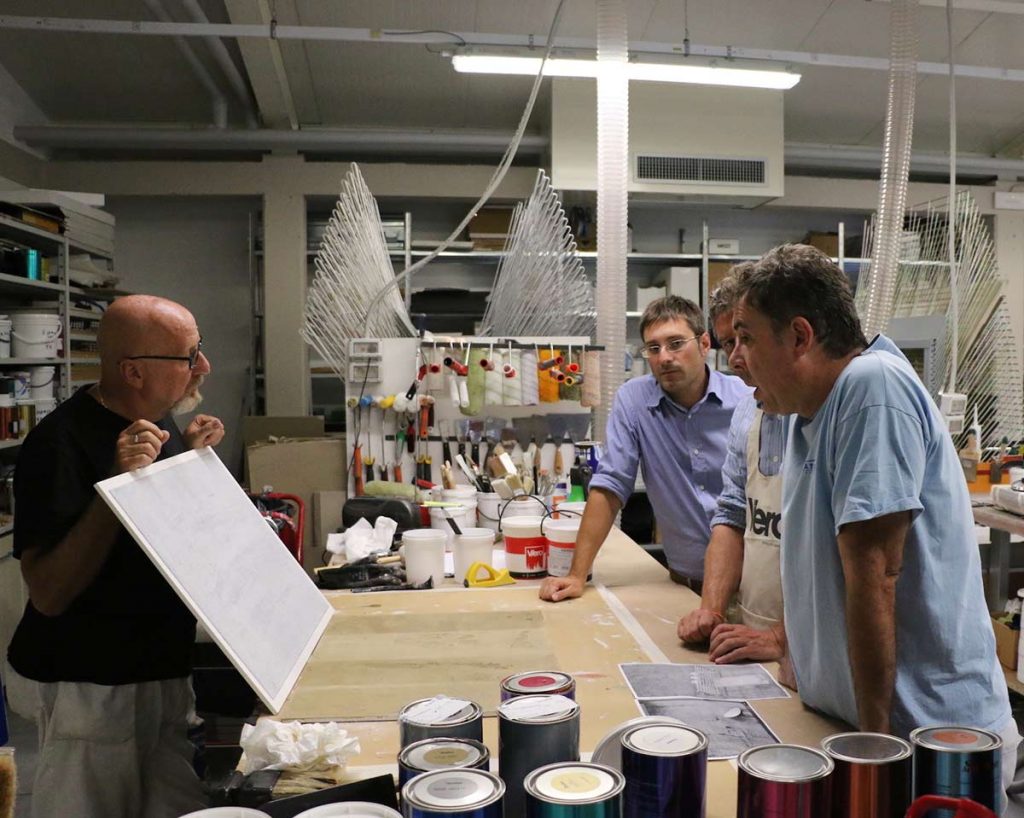 The aim of the Academy is to form an alliance with partners of Viero Decoratives to ensure the best professional results and visual appeal from what is undoubtedly a superior product. That is why the Viero Academy experience is just the start.
A remote tutoring service translated into various languages, as well as numerous digital technical coaching materials, are available to partners to keep them constantly up to date on the latest Viero Decoratives innovations, to support them in relation to any technical needs, and to offer continuous inspiration.
10 reasons to attend the Viero Academy, training experience for international applicators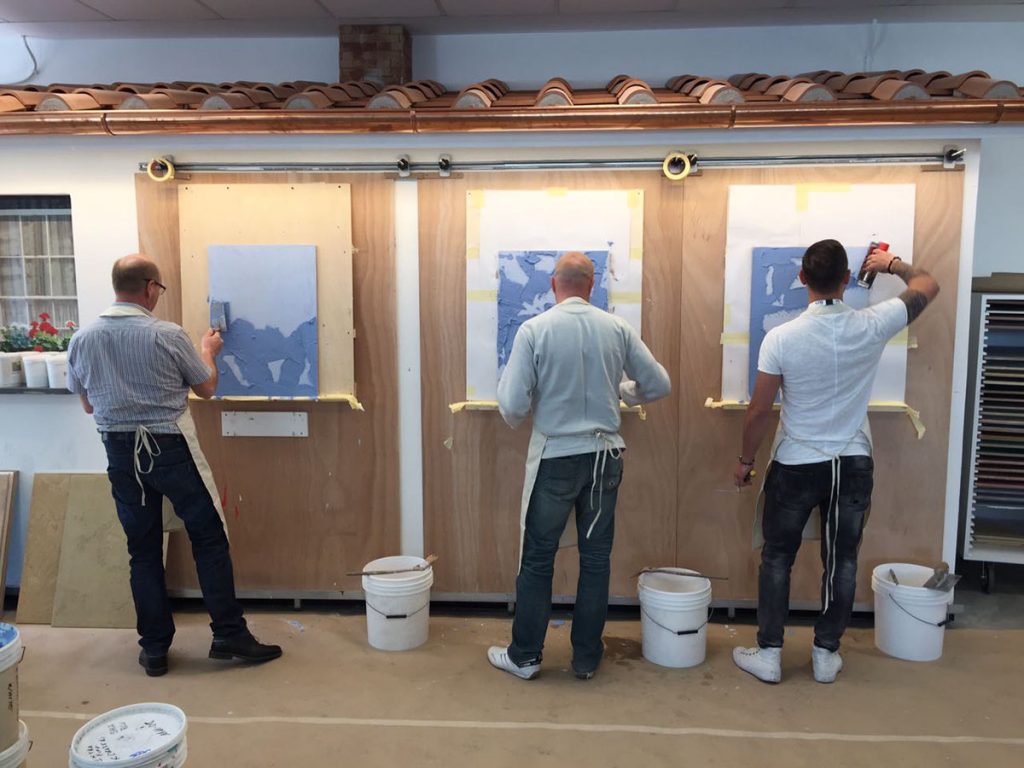 Because our training experience for applicators is a course tailored to you, based on your needs. So it is naturally perfect for you!
Because you will be welcomed into a friendly and informal atmosphere at our headquarters, where you can learn more about the products and the finest application techniques.
Because an expert Master Decorator will always be by your side, guiding you. You can ask him/her questions and seek advice on the products, application cycles or decorative effects that interest you most.
Because you will challenge yourself, don your apron, get your hands dirty, create your decorative panels… And you will go home full of new ideas.
Because even if you participate as a group, it's a great opportunity for team building.
Because you will meet lots of other professionals in your industry and join our community, where you will receive constant support.
Because you can take whatever you make back home with you and use it for promotional purposes.
Because time spent on training and refresher courses is always time well spent.
Because you will be in Tuscany and, depending on how much time you have and your interests, you might decide to visit the beautiful sites.
Because every year, we host dozens and dozens of wall professionals from all around the world. And everyone goes home with a smile.
Interested in the Viero Academy? Let's start designing!
If you are a Viero partner and interested in participating in an all-round training experience for applicators with the Viero Academy, don't wait. Every Viero Academy is a highly customisable experience. To ensure you are satisfied and to clearly define the most suitable type of training and experience, the duration, price and location (Viero Academy takes place in Tuscany, but can also be organised in partner locations on request), you will need to speak directly with our area managers, who, in collaboration with reception and the training department, will decide on the best solution for your needs.
Let's start designing, contact us.