The decorative finishes for bright walls give depth, light, and visual interest to indoor spaces, creating plays of light and refined effects on the verticality of the environments. The metallic decorative effects or those enriched with bright pigments go well with both a more classic, warm, luxurious atmosphere and with more contemporary styles with a cosmopolitan taste.
They can be used, for example, to highlight details such as columns, cornices, arches, and mouldings, to enrich whole walls or part of them with bright and luminous accents. Or, again, to give dynamism to environments and build focal points, adding a sophisticated touch to the space. Examples? Here are six ideas for decorative finishes illuminated by pearlescent sands and metallic pigments.
Damascato with Allure, for walls with luxurious reflections
Made with Allure, Damascato is a decorative effect inspired by the preciousness of damask fabrics, all played on the alternation between smooth and glossy surfaces and other more matt and sandy ones. The main characteristic is brightness, obtained with the reflections of precious golden or silver pigments in the Allure product, a water-based decorative metallic paint that is easy to apply and suitable for interiors. Enriched with fine glassy sands that are easy to work with, it is ideal for creating evocative effects and it also offers great versatility in textures and colours. More expert applicators, for example, can overlap several colours to create customized nuances or iridescent and transparent effects.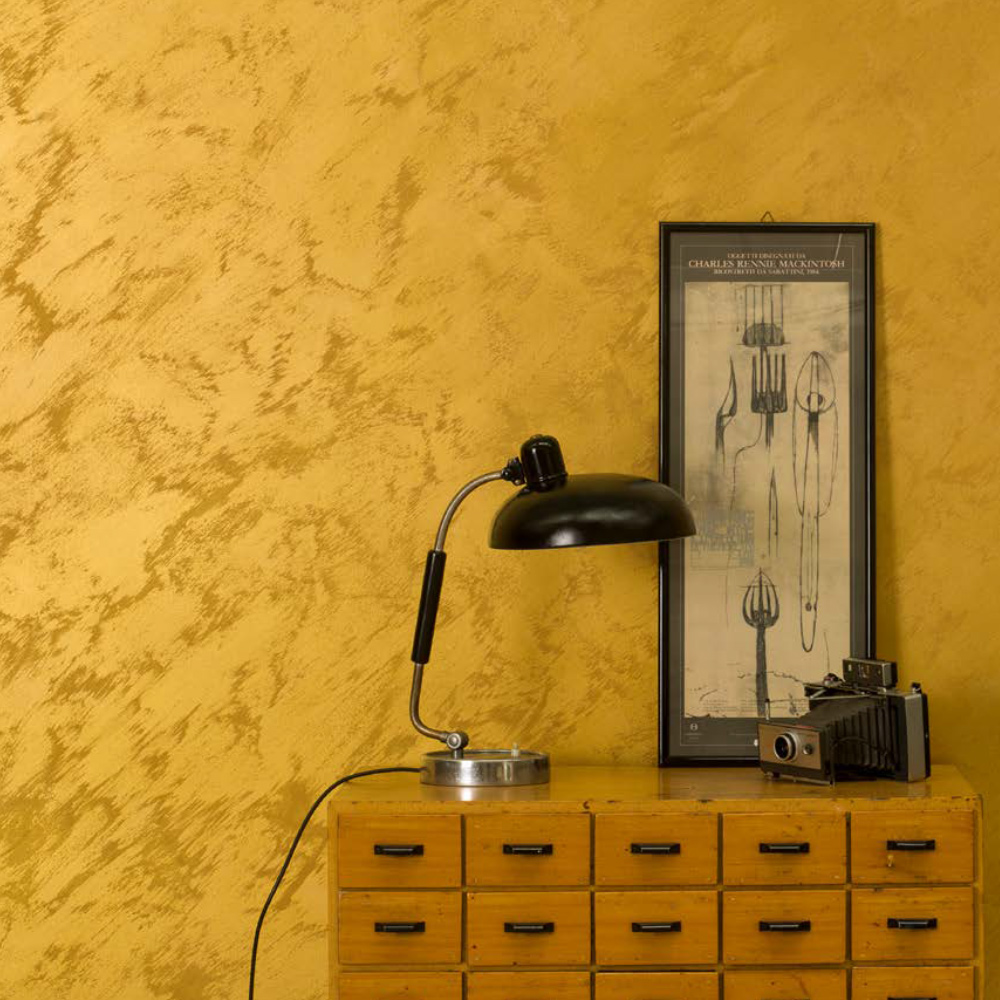 Venetian plaster with Mithos Lux, for high-gloss walls
Glossy and smooth, Venetian plaster pays homage to tradition with a brushed effect created with MITHOS LUX, a thin-layer finishing plaster based on natural lime putty, earth pigments, micronized marble, and other special additives. The final result is super smooth with a marble effect, with a very refined mirror-polished surface.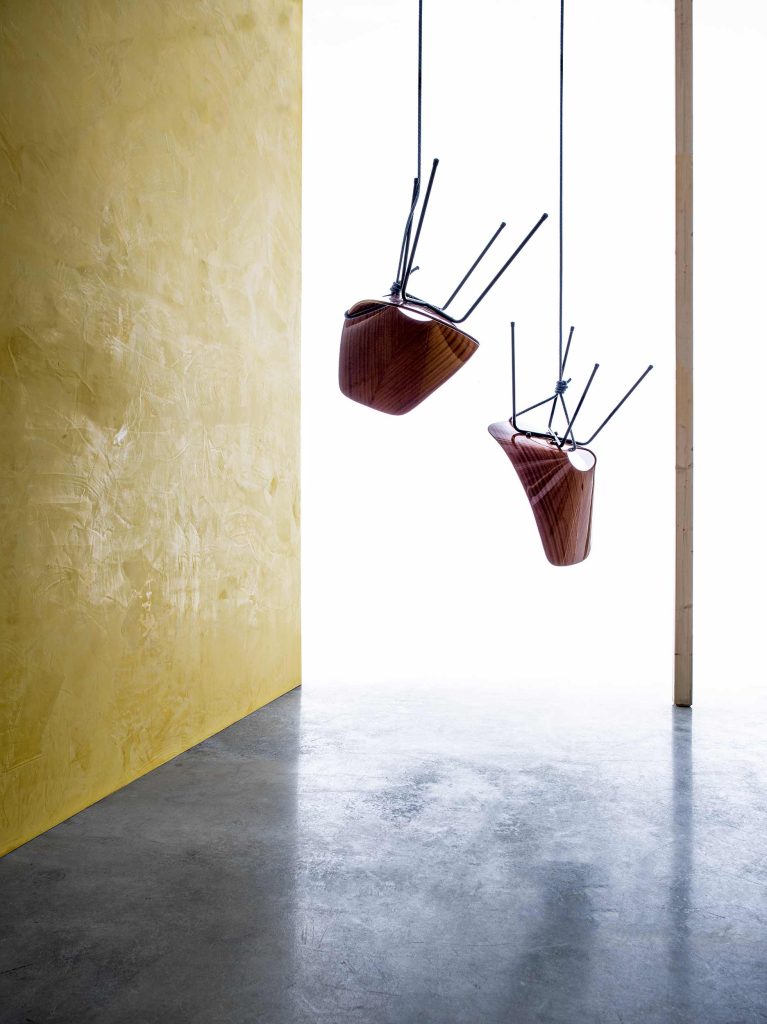 Erametal, metallic accents for a hyper-versatile decorative finish
The subtle metallic effect that characterizes Erametal decorative paint is obtained with the pigments in the paint. Even in terms of colours, the most classic and precious metals are evoked: gold, silver, bronze, copper. There are also modern colours/effects such as graphite, anthracite, and oxidations. Easy to apply, Erametal is extremely versatile, so much so that this product forms the basis of many decorative finishes designed and created by our master decorators. Read on to discover three of them!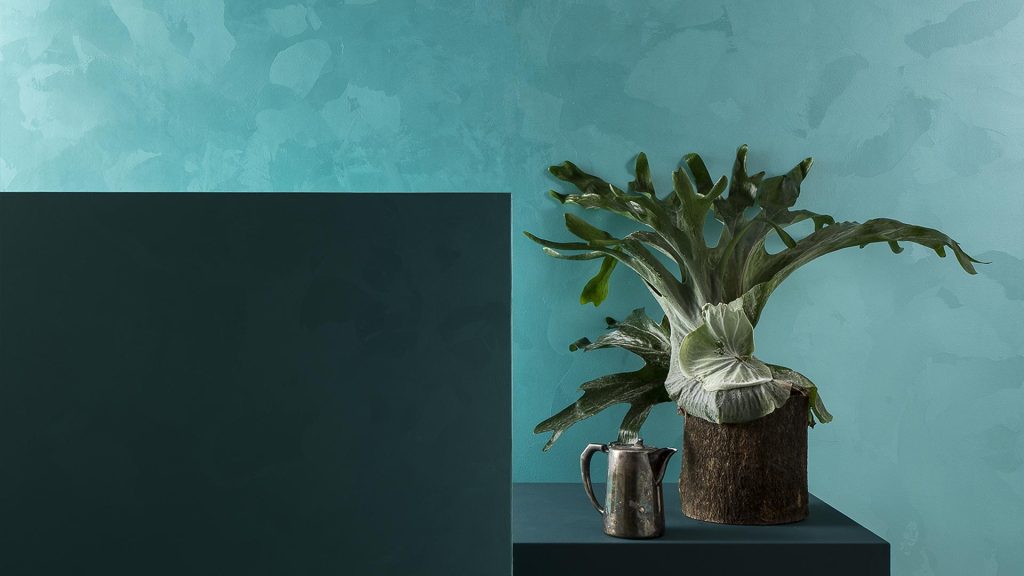 Etruscan inspiration. Three decorative finishes for bright walls
From the Made in Tuscany collection by Viero Decoratives dedicated to the Etruscan lands, we have selected three decorative wall finishes that play with light, iridescent effects, and the sheen of metals. What they have in common is the Erametal product we talked about in the previous paragraph, applied with different techniques, and, in some cases, combined with other products. Let's see in detail!
Made with Erametal in combination with Vieroplast malleable finish and Allure metallic paint, the Clevsin decorative effect is a tribute to the Etruscan goldsmith art and to the highly sophisticated craftsmanship techniques of this people. The splendour and refinement of Etruscan jewels is evoked on three-dimensional walls characterized by sophisticated patterns and are made warm and luxurious with the presence of micro granules of gold. A perfect finish to create a sense of depth and a sumptuous atmosphere in interiors.
Also inspired by gold is the Zamathi effect, which looks to the elegance of Etruscan jewels, lingering on the details of the engravings and the sophisticated light effects. It is a decorative wall finish with a high aesthetic value, which gives free rein to the creativity of the decorator, who can customize and creatively adapt the designs of the engravings according to the needs of each individual project, thus making it unique. The VIEROPLAST product is indeed easy to work with and offers a wide range of experimentation and freedom of expression. Very suitable for creating artistic walls.
Pasty, magmatic, metallic. This is the Volsini decorative effect, where the surfaces of the embossed bronze meet the brightness of metal. Tribute to the ancient Etruscan city of Volsini, this creation brings three-dimensionality and dynamism to the wall. The movement, also created through different shades of colour, is obtained with a special technique that combines E-BREZZA with ERAMETAL, for a natural oxidation effect. The result is a warm, tactile, highly evocative surface.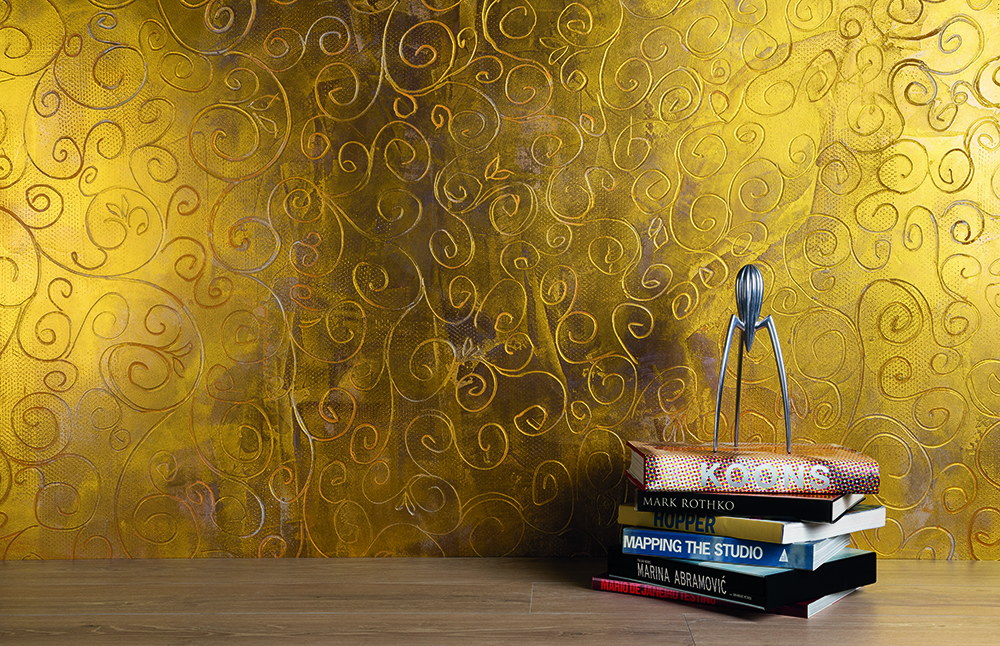 Mix and play! Combine colours and materials, create your own design
What you have just read are just some decorative finishes for bright walls. But as always, by using and mixing our products, employing new tools, playing with colours, textures, and application techniques, you can research, experiment, and create new unique finishes yourself, making your spaces shine. The possibilities are countless! Start creating…
Need support? Ask our experts!
Already have your wall idea in mind but need some targeted advice to design it the right way? Need technical support to create a finish? Want more information about our Viero Decoratives products? Interested in attending the Viero Academy and testing in person our products, discovering the most suitable tools, and trying out the application techniques together with our master decorators? Contact us: we look forward to helping you and supporting your creativity!